An Island in a Sea of Desert
Warm Springs Natural Area is a 1,250-acre oasis in Moapa, Nevada featuring more than two dozen bubbling springs, rushing streams and lush wetlands. It is also home to over 28 sensitive species and more than 200 species of birds. Operated by the Southern Nevada Water Authority, our mission is to manage the property as a natural area for the benefit of native species and for the recovery of the endangered Moapa dace.
Warm Springs Natural Area guided walking tours
Tours are approximately one hour long and start at the Warm Springs Public Use Area, located at 4240 Warm Springs Rd., Moapa, NV.
Dec. 16 - 10 a.m., 2 p.m.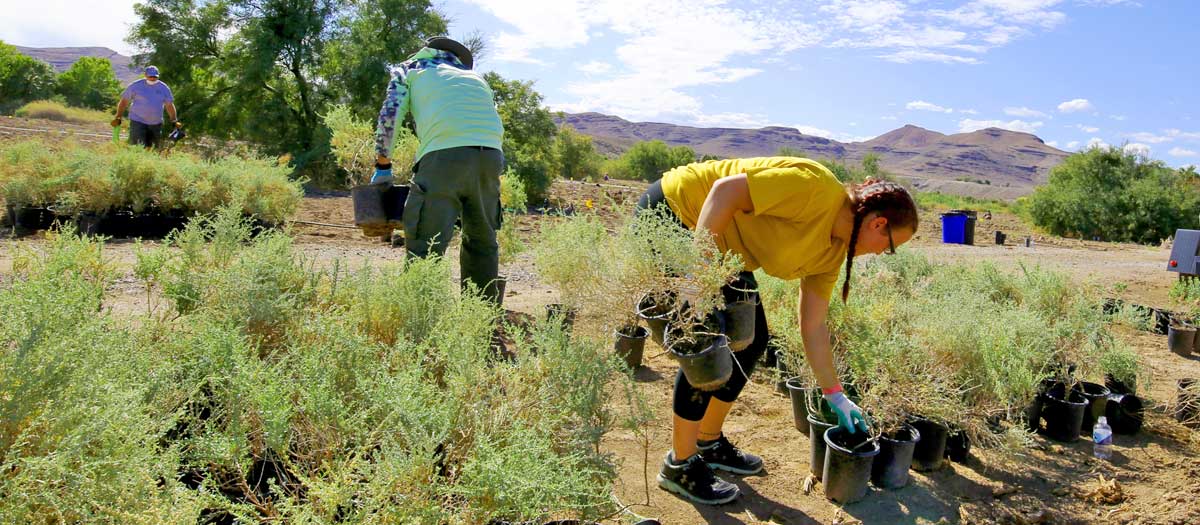 Volunteer opportunities
Warm Springs Natural Area is seeking enthusiastic individuals who are passionate about the outdoors and thrive on educating others! Come engage visitors at our public use area, help at local events, assist staff during field trips and other hosted activities, work in the greenhouse and on restoration projects, and teach the community about our rich history and current preservation efforts and biological, ecological, and archaeological research.
Become a docent
2022 Highlights
Staff completed in-person classroom, community and symposium presentations reaching more than 680 people
Staff hosted a booth at the Pomegranate Festival and the Lost City Museum Open House, interacting with more than 200 individuals
Continued partnership with Future Farmers of America programs at Moapa Valley, engaging students in spring planting projects and property maintenance
Hosted 110 fifth-graders from Grant Bowler Middle School for World Wetlands Day
Hosted annual community Green-Up event that brought 181 volunteers to the property to plant 3,000 native trees and shrubs
Staff completed a library event at the Moapa Town Library teaching 25 children and their parents about the property
Completed eight Boy and Girl Scout projects that included 165 volunteers installing 3,410 native plants
Logged more than 270 groups and more than 2,200 individuals in the guestbook
Staff hosted tours for groups bringing more than 65 people to the property
Staff hosted Public Use tours in April, October, November and December bringing an additional 72 people to the property
Surveyed for southwestern willow flycatcher (endangered), identifying five territories, two of which fledged five young
Conducted surveys for yellow-billed cuckoo (threatened) in partnership with Nevada Department of Wildlife, but made no detections
Continued annual marsh bird surveys, detecting Virginia rail, sora and least bittern
Added nine new invertebrates to the inventory, bringing the total up to 489 species
Completed cultural resource clearances for Green Up site, restoration sites, and new Public Use trails extension
The Christmas Bird Count resulted in 85 species and 5,748 total birds with 25 birders covering 54 miles by car and 23 miles on foot
Implemented compliance measures for a site-wide Habitat Conservation Plan authorized by the U.S. Fish and Wildlife Service
Staff built and installed two multi-chamber bat houses throughout the property
Tri-County Weed Control treated nearly 63.5 acres of noxious weeds and 32 acres of bare ground for firebreaks
Nevada Division of Forestry removed 3 acres of tamarisk along the Muddy River
Produced more than 2,000 trees, shrubs and grasses in the onsite propagation facility for future restoration efforts
Installed more than 7,500 native plants and associated irrigation systems at six ecological restoration sites
Cleared vegetation from 0.5 miles of streams to improve Moapa dace habitat
Prepared plans and started work at restoration sites funded by the Bureau of Reclamation
Continue to treat and remove noxious weeds
Continue to host Public Use Tours that are open to the public
Host annual community planting Green-Up event each fall
Continue to engage with local schools, delivering in-classroom presentations and bringing students to the property for field trips
Restore additional areas with native plants to provide shade and cover for fish, while enhancing bird habitat
A Bureau of Reclamation grant will fund the establishment of riparian trees, mesquite woodlands and associated understory plants throughout the property along the Muddy River
A Bureau of Land Management Southern Nevada Public Land Management Act grant will fund a new trail system, including interpretive signage, a connecting trail to the Mojave Valley National Wildlife Refuge, and restoration of natural landscapes along the newly formed trails